Beautiful and comfortable bus – the perfect vehicle, that's just, like everything else in the world, they eventually become obsolete and sent for recycling. But there are a few original ways to give them a second life. This is truly an amazing transformation.
1. Home Office
Good old "Icarus" can turn into a wonderful home office. Rather than the entire, and its cabin. Designated office takes a lot, and work area to get comfortable, spacious and isolated from the bedroom.
9. Restaurant
This is not some kind of eatery is a true five-star restaurant with a cocktail bar on the ground floor. The main hall can accommodate up to 30 visitors. The idea of ​​creation belongs to the former restaurant critic Simon Davis, who has a passion for luxury cars. Interior details are impressive: a case with old samples of board games, cutlery from "my grandmother's trunk" bucket of champagne from the House of Lords.
8. House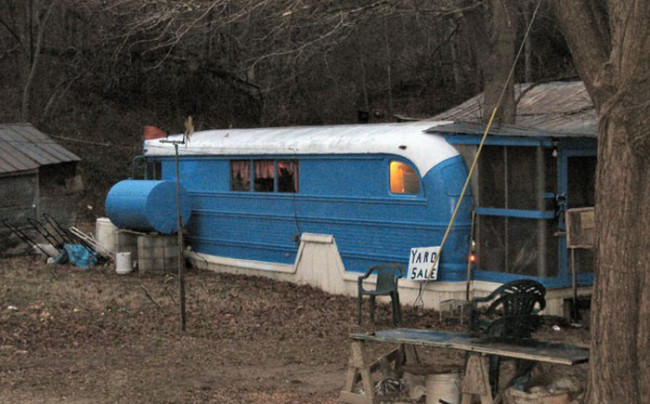 Some people are so indifferent to the buses that are willing to even live in them.
7. shelter from a tornado
Sometimes the beauty of it is not necessary to think. The main thing – reliability during natural disasters.
6. Art Gallery
It is not necessarily going to show, if they come to the visitors. However, this is possible only in Liverpool.
5. School
One of the Welsh schools needed a new class. Instead of spending a lot of money for the construction, it was decided to reconstruct the old bus. Engine with him, of course. Removed, but the steering wheel in the driver's cab left to the delight of children. The class contains from 30 to 60 children.
4. Pool
Perhaps this is one of the most amazing transformations of the old bus. Excellent decoration for the backyard.
3. Garage
The idea to pack one vehicle inside another gorgeous. Originality of thought in 1969 demonstrated a resident of the Japanese city of Okinawa.
2. Bedroom
If a family is increased, and expand ownership there is no hope, then come to the aid bus. With a little effort and is ready to a new bedroom.
1. A flower bed
During the summer biennale in the Swedish city of Lulea gardener from Golladnii Annehin Meyer has created a mobile flower bed on the roof of the bus and set it in the middle of the pool at the local museum.