Tattoo lovers, I am sure you were waiting for this post. Check out the new tattoo designs and get it on your body….
1. Native American piece by Roman Abrego at Artistic Element Tattoo in Hollywood, Ca
2. This might be a little simplistic for here, but here goes. Neurotransmitters, by Carl Carscallen in Kingston, Canada
3.  7th and final session of my torso. Done by Dean Denney at Anonymous Tattoo in Sav. GA (older progression photos in my submitted links)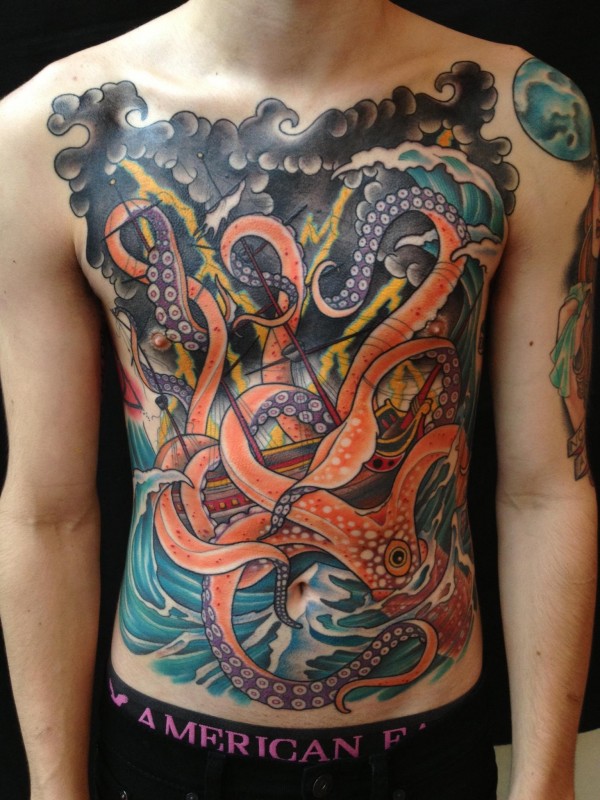 4.  Polar bear by Ali Selliman at Custom Collective, Hamilton NZ
5. My latest piece. Done by Kompi Tattoo, Cyprus
6. The reason for my username. By Pat Brabham at The Parlour (now closed) in Baton Rouge, LA
7. My first tattoo, on my shin. Done by Eli Quinters at Smith Street Tattoo in Brooklyn, NY.
8. Blue Heron , by Angela @ painless steel, missoula,mt
9. UPDATE! SESSION TWO! Wolf Head Revamp (Session 1) by Christy at Blue Flame – Raleigh, NC NSFW
10. First session of 'The Killing Joke' inspired Batman sleeve – OttNick @ Old Town Tattoo, Edinburgh UK.
11. Just had this done by Alex at Major League Tattoos in Miami. From one of my all time favorite books.
12. awesome pirate theme back piece. done by Eric Ziobrowski, Medford NY.
13. Chinese temple landscape (Alex Lugo in Sarasota, FL)
14. Realistic Sparrow and Forget-Me-Not flowers, unfinished, done by Mike @ Subculturez, Orange City Fl
15. Free From the Hive-Mind, done by Dave Gutkowski @ Tailormade Tattoo – Madison, WI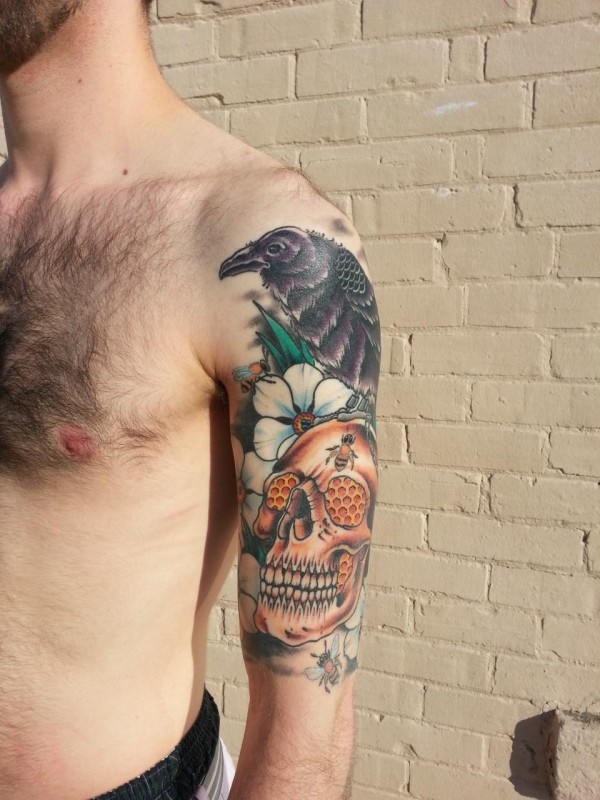 16. when I was 18, I thought this was a hysterical idea. a few years later, I still don't regret it. hope I never go to jail though.( by Elijah, at electric city tattoo gallery, Scranton PA)
17.  Spartan, By Bex Edwards @ Exclusive Tattoos, Somerset, UK
18. First session on my Phoenix with maple leaves. Done by Joe Worrall, Infinate Ink, Cov. UK.
19. Posted my tattoo on this sub as soon as I got it last week, I'm addicted. Know of any artists in California whose primary style is like the piece I've got? Linear, minimalistic, intricate, black & gray? Help is appreciated! This piece was designed by me, done by Paul of Outer Limits, Costa Mesa CA.
20. my first tattoo by Chavez Pattinson @ Borderline in Berwick upon Tweed