The Great Beginning of New Year with celebration, remembrance, thanksgiving and prayer in picture from around the world.
1. Students stand to form "Happy 2014" to welcome the upcoming New Year at a middle school in Ma'anshan, Anhui province, China.
2. People wait for the New Year tree to be lit up ahead of the arrival of the new year in Tbilisi, Georgia.
3. Men dressed as Vikings lead the torchlight procession as it makes its way through Edinburgh, Scotland for the start of the New Year celebrations. Around 80,000 people are expected in the city for the New Year celebrations running over three days and tickets have been bought for the event in 60 different countries.
4. A person dressed as Spider-Man throws confetti during the 2014 New Year's Eve Confetti Test at Hard Rock Cafe, Times Square on December 29, 2013 in New York City.
5. A vendor sets out pork to sell, on a street in Havana, Cuba. Roast pork is a favourite dish of Cubans on New Year's Eve.
6. Computers and outdated electronic gadgets that have been smashed sit on a carpet during "Good Riddance Day" in Times Square in New York, December 28, 2013. Good Riddance Day, inspired from a Latin American tradition, is an opportunity for New Yorkers say good-bye to everything bothering them about the old year by smashing it or shredding it.
7. A woman relaxes on the beach as followers of the Afro-Brazilian religion Umbanda attend a ceremony paying tribute to Iemanja, goddess of the sea, at Copacabana Beach in Rio de Janeiro December 28, 2013. Every end of the year, worshippers present gifts to the sea goddess to give thanks for the year that is finishing and ask for blessings for the upcoming new year.
8. Volunteers work on the City of Alhambra's Tournament of Roses Parade float in Pasadena, California December 29, 2013. The 125th Rose Parade will take place in Pasadena on New Year's Day.
9. Environment group members wearing gas masks protest against the use of air-polluting firecrackers and other pyrotechnic devices in the coming New Year revelry during a rally in Quezon city, metro Manila December 30, 2013. A total of 193 people in the Philippines were reported injured by fireworks, with five others by stray bullets, a few days before the eve of the New Year, local media reported. The placards read, "Firecrackers makes the air toxic" (L) and "Polluted air is not safe to inhale, steer clear of toxic firecrackers"
10.  A Gurung man plays a traditional instrument as he sings and dances with friends during the New Year parade in Kathmandu December 30, 2013. The Gurung community in Nepal celebrates their Tamu Lhosar or Losar (New Year) with a feast and various cultural programs to usher in the year of the horse.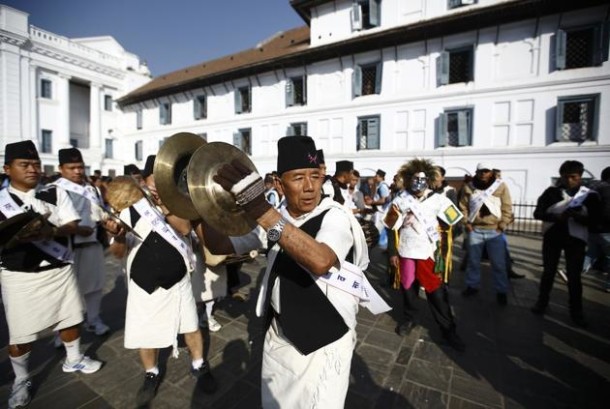 11. A girl blows a plastic horn to attract customers in front of stalls in Manila December 30, 2013. The Department of Health urged residents to use different kinds of plastic or paper horns rather than firecrackers to celebrate New Years festivities. A total of 193 people in the Philippines were reported injured by fireworks, with five others by stray bullets, a few days before the New Year's eve, a local media reported.
12. Shoppers look at seafood at a fishmonger's stall as they do their last-minute New Year's shopping in the Ameyoko shopping district in Tokyo.
13. Members of the "Cryophil" winter swimming club pose with Olympic rings in the Yenisei River during a New Year celebration, in air temperatures of minus 5 degrees Celsius (23 degrees Fahrenheit) in Russia's Siberian city of Krasnoyarsk.
14. Workers walk along a floating platform while arranging "wishing spheres" along Marina Bay in Singapore. People penned their wishes for the new year onto the spheres before placing them into the river.
15. A worker prepares for a New Year countdown party at Yangon, Myanmar.
16. Dancers from Romania's northeastern region of Moldova perform the "bear" dance, a ritual for good luck in the New Year, during a traditional parade in Comanesti, 300 km (186 miles) northeast of Bucharest, Romania. In pre-Christian rural traditions dancers used to tour from house to house in villages while singing and dancing to ward off evil.
Source : Yahoo