On the cutting boards are usually much talk is not accepted. It seems that there is nothing easier of the equipment needed in the kitchen. But this is not the right look to them. Cutting board, though not imply cunning design, but sometimes can be very surprising.
Wooden cutting boards – between tradition and modernity
Of course, nothing supernatural in this design is not, and looks original. Handmade, so each board is unique.
Enough to add just a little detail to a cutting board to make it interesting. This model has attached feet.Highly textured and contoured edges wonderfully suited to the purpose.
Powerful bar, looks massive, but at the same time elegant and modern. Can not only be used for cutting products, but also for serving dishes.
Made from bamboo cutting board has an unusual form of puzzles that can be made into one large board.The original idea, as you can use both parts individually and in pairs.
Because of the cross-cut board looks interesting in itself. Only here the self-healing properties turned it into a very expensive, the price is more than a hundred dollars.

Textured original cutting board made of walnut and maple.
Nominal cutting board
Nominal cutting board – a great gift, especially if done by hand. A huge number of boys granted their mothers on March 8 or Birthday. However, you can find things more interesting, but the same kind.
Marble cutting board with character
All that is made of marble, looks great, even cutting board. Big Cheese board boasts rubber feet that prevent it slide on the table surface.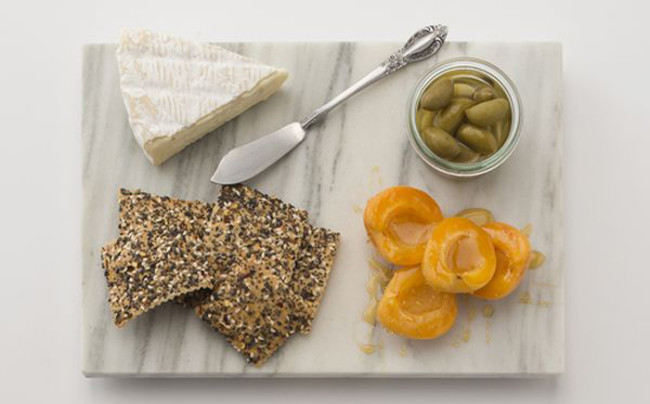 Another board cheese classic form. It is made from a piece of Vermont marble, will last a lifetime faithfully.And yet she has great legs copper.
In the united board stone and wood, marble and mango. Discreet and elegant tray of cheese.

An interesting combination of gray and white marble cutting board, different strength and durability.
Modern design – a new look
It is not easy to board, it is also a knife sharpener. A simple form of beautiful color and increased functionality. When the knife is blunt, just need to flip the board and put it on the edge of the slip.
An interesting model cutting board made of polypropylene with a retractable handle, now it can be mounted on the sink and work quietly.
Original cutting board with a compartment for any waste generated during operation.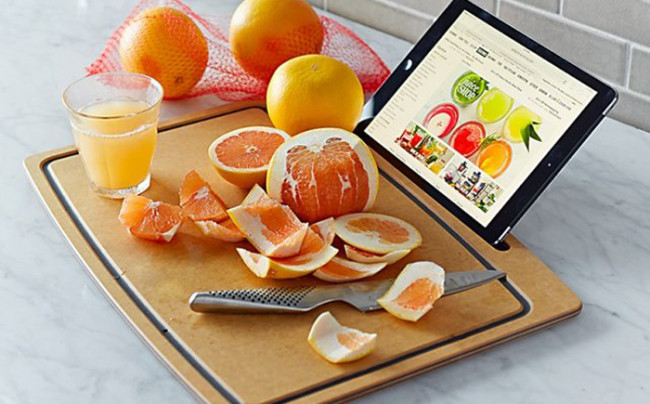 Cutting board for those who need to occasionally glances at the recipe, or who can not break away from the beloved series.
Universal board for all occasions with removable heat-resistant colander. Handles not let it glide over the surface.
Simple wooden board with built-in compartment for waste and an opening through which they get inside.Do not need to be torn now between the bin and a work desk. It will be enough at the end to remove the box and throw garbage.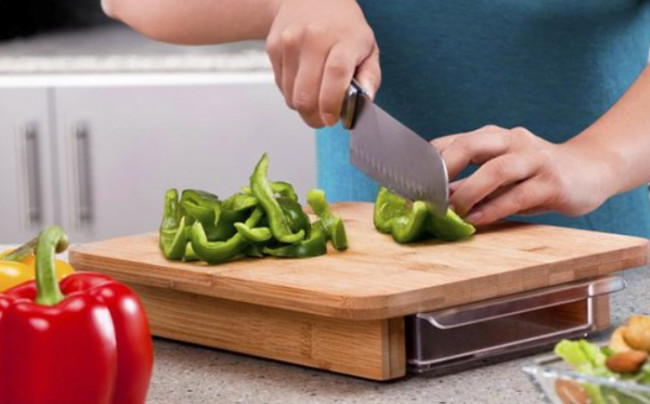 Another cutting board allows you to search the desired information in the plates. Besides, it also serves as a stand for the knife.