In the words of creator of the project…
Anton tells Peter: "The strangest time – this night. When the loudest noise knocks your heart, and occasionally winds walk through the valley. Night in mountains is doubly beautiful. Imagine a moonlit night, clouds of mist underfoot, easy breeze, mojito glass and noise
Night mode is not for the lazy and late risers. It is very difficult to overcome the desire to warm immediately after dinner to get into a warm sleeping bag and fall asleep for 12 hours. But we must go into the damp, cold and uncertainty in the hope of catching a few exceptional staff. In fact, I pin icon smile Magic Night NepalNight Photography -was a big thrill and experiment when you do not know what eventually happened after pressing. What happened with me – see this post. "
1. First, almost cloudless night icon smile Magic Night Nepal, foreground illuminated flashlight.
2. And this is the last night in the mountains, as you can see, cloudiness almost not changed. The clouds seemed to just enveloped the mountains …
3. Only last night began to appear Langtang Lirung legendary giant stone height 7227 meters. An incredible sight when the clouds make way and show dazzling white pyramid mountains …
4. Cloud appeared and then disappeared, the apex never fully reveals. Stars flashed in tears cloud blankets.
Nepalnight05 Magic Night Nepal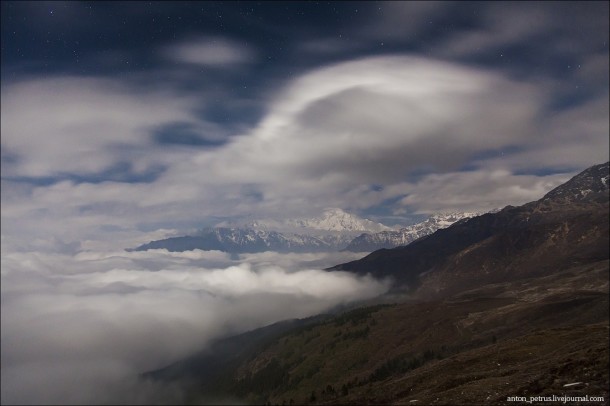 5. Langtang Lirung name eventually became a household name for us, so we waited a long time..
6. At the opposite side of the mountain ,was going something unimaginable! The wind drove the clouds with stunning speed, powerful searchlight moon worked, and all this makes the picture just incredible.
7. Finally Langtang finally opened … And we in good conscience return to the theme of a sleeping bag …