Cat Tattoo are even more popular than the cats itself, just joking .. they are not. But they are famous enough to capture your attention and they look damn cute. Below you will find some of the best cat tattoo designs ideas that have captured my attention and after seeing this you can also get jealous of your own cat tattoo, so beware of mood swings.
1. Super Trooper Cat
2. SPACE MATH CAT
3. My cat after one session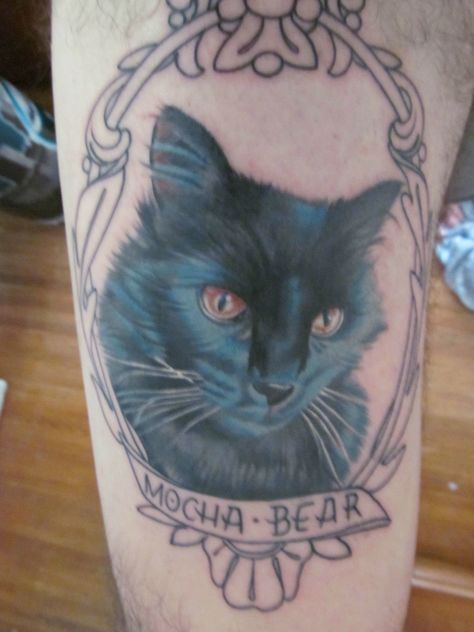 4. A cat named Skittles. John Embry. Studio 14. Bowling Green, OH.
5. My Magnolia Cat, a tribute to my baby who passed too soon. By Austin at Divinity Tattoo in Phoenix, AZ.
6. Cat Wooster and Owl Jeeves by Samuli @ Legacy Tattoo, Helsinki, Finland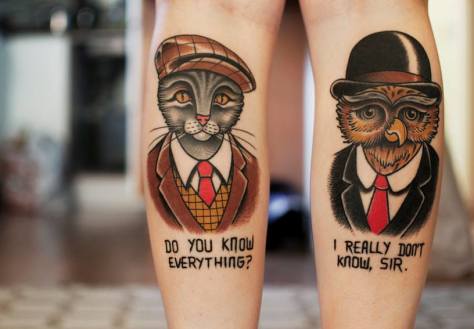 7. For my first post – my cat Niblets done by Justin Hendrick, Kaneohe, HI
8. My cat, Skunk. Done by Bubba Soliz at Four Horsemen Tattoo in San Antonio
9. Seagoat tat by Chris Allen, Alley Cats Tattoos, Baton Rouge, LA
10 .my three eyed cat done by Myra Brodsky, chorus tattoo, berlin
11. My Wife's tattoo of our munchkin cat Nellie. Done by Millo @ Marshmillo's Tattoos in Ramstein, Germany.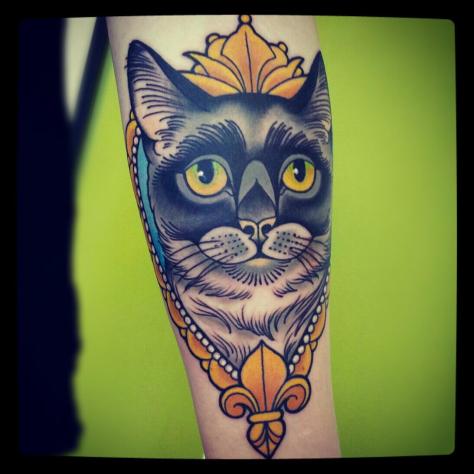 12. Cattoo, also! (My Louis Wain cat by J at Read Street Tattoo in Baltimore, Maryland.)
13. My fat lucky noodle cat! By Wendy Pham during a guest spot at Progression Tattoo, Adelaide.
14. My gorgeous cats! by Lore Morato @ Sol Tribe in Denver.
15. First tattoo. Cat Tattoo – Aaron Grace – Dallas, TX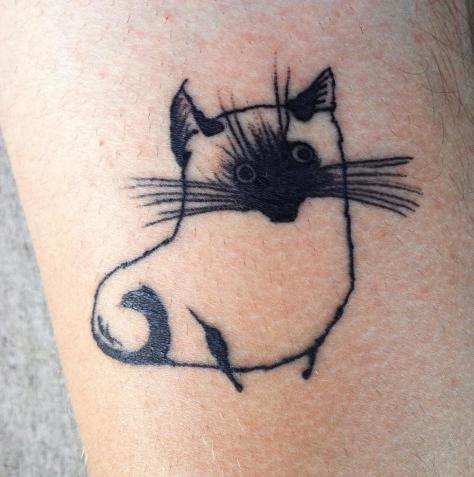 16 . My jerk cat by John Reardon from Greenpoint Tattoo Co. In Brooklyn while doing a guest spot at Hudson River Tattoo in Hudson, NY.
17. My deftones 'screaming cat' tattoo – by Leaf Chang @ Gnostic Tattoo, Brooklyn NY
18. Decided to immortalise my cat, Shadow, in my favourite setting.
19. working on my sleeve, tattoo by francisco sanchez, cat tattoo in addison, texas
20. Cat skull done by Billy Shofner at Brut Tattoo in Charlotte, NC
21. Cat gods, by Rachel Walker @ Sink The Ink in Doylestown, PA
22. My freshly done bass clef cat done by Jeff at Insight Studios in Chicago.
23. my cat, the love of my life, Admiral Sherbert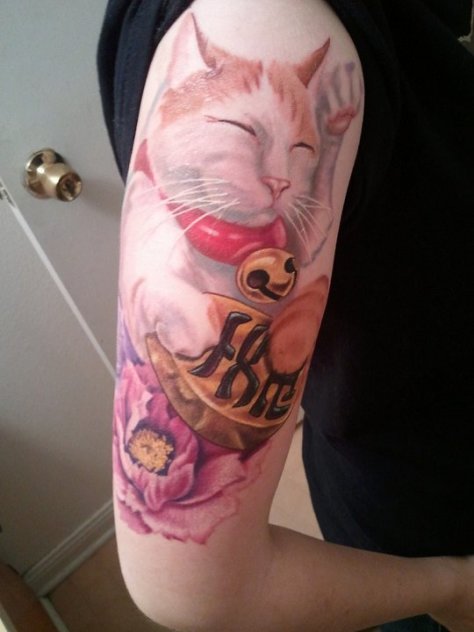 24. My fox shin piece by Sophia Baughan at Shangahai Charlie's, Sydney, Australia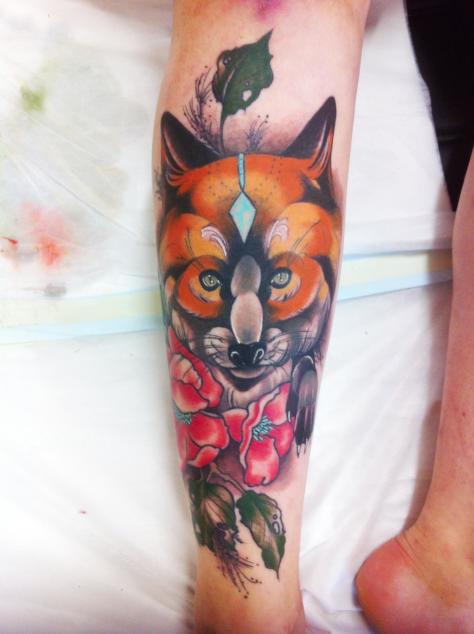 25. Buddha Cat Tattoo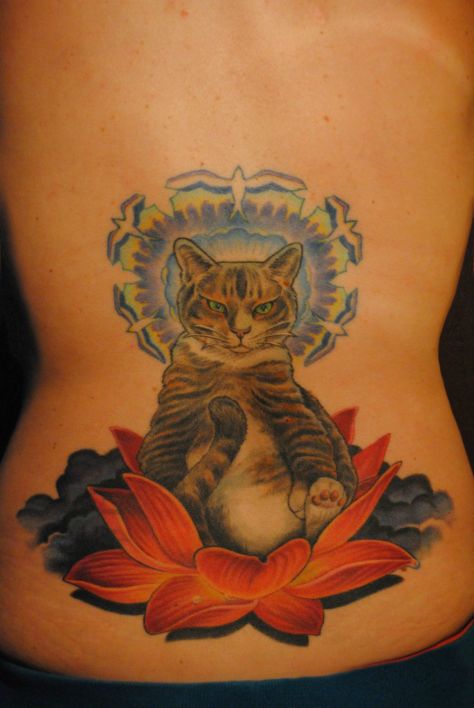 26. My cat. Made by Kari @ Majestic Tattoo, Örebro, Sweden
27. Fancy Cat. By Don Ritson at Rebel Waltz in Winnipeg, Mb.
28. Anime of My Wife and Cats Baking Cookies – Shaun Flinn 5-7-0 Tattooing Co Wilkes Barre PA
29. Linus, the Deftones cat. Done By Mark Skipper at TRX Tattoos & Piercing in St. Louis, MO
30. Four Eyed Cat Tattoo by Josh of Humble Beginnings in San Jose, CA
31. 2nd sitting of my Victorian Cat Portrait – Lauren Fenlon, Foothills Tattoo, Byford, Western Australia
32. Jeeves, my cat. Done by Mez Love at Tattoo Boogaloo, San Francisco, CA
33. My two hilarious cats dressed as the Hobbits they're named after, by Bailey Moffatt @ Time Will Tell Tattoo
34. my Cat skull by Erik Jacobsen @ Idle Hand, SF
35. My cat tattoo, done by Tim Rix at Westside Tattoo, Brisbane.
36. Buddy of mine got his cat Dave tattooed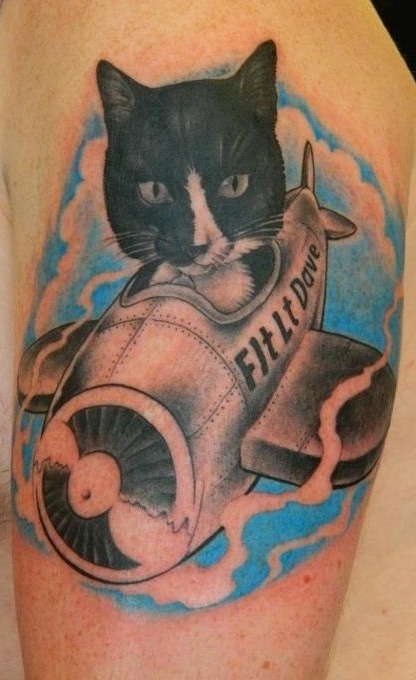 37. Portrait tattoo of my ginger cat, Ziggy (by Michie Kojima @ Sacred Heart, Vancouver, BC, Canada)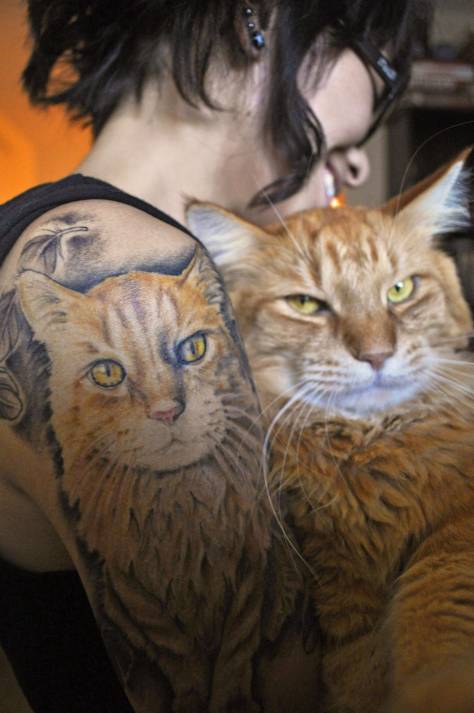 38. My cat is a fancy bastard. Work in progress.
39. Tattoo of my cat Jones, who passed away in May.
40. New school fortune cat done by me, Josh Herman @ Good Family Tattoo in Lake Villa, il
41. My cat. Done by Nathan Evans, who just travels full time. I can never really get a good pic, this is the best I've got.
42. Fresh tattoo of my cat, Peepants. Done by Megon Shore @ Fist Full of Metal Tattoo in Seattle, WA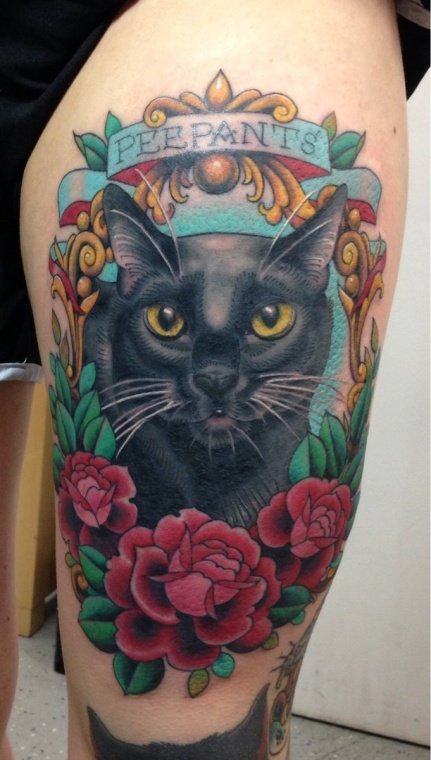 43. Lion by Darren at Black Cat Tattoo in Panama City, Florida
44. Steam Cat is a proper sir. Done by Sam Garrett: Diamond Thieves, Asheville, NC
45. Fox by Maija at Kaleidoscope Tattoo, Bondi, AUS.
46. Pizza Cat Tattoo by Stacey Martin @ Dovetail Tattoo, Austin TX
47. Cat Skull Self Harm Scar Cover Up by Sissel @ True Rebel Tattoo, Hamburg, Germany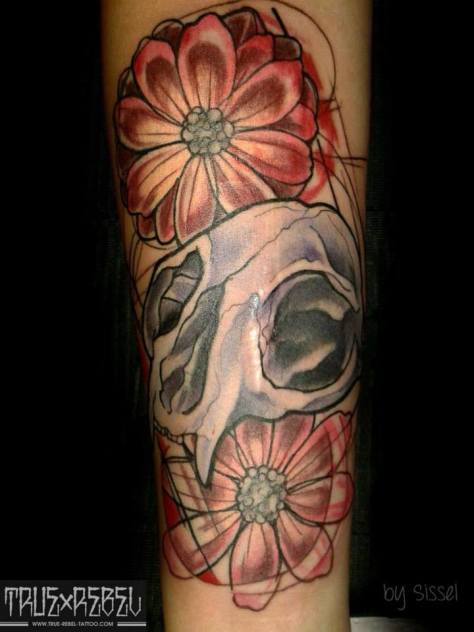 48. My cornish rex cat in a sweater. Ivana Belakova, Outer Limits (for now)…Long Beach, ca
49. Cat piece coverup. Caio Leme. missontattoparlour, Calgary AB.
50. My Louis Wain inspired cat memorial tat. Done by Sole Del Real @ Ink and Pistons in West Palm Beach, FL.