Drinking from a container on which job is to design something will be much more interesting and fun. Check and let us know if you have more designs……


1. Barrel
Glass in the form of radioactive waste casks invented designer Henry of A2 Inc. Sold in sets of two.
2. Crumpled plastic
Glass cup in the form of crumpled plastic, on the idea of ​​designers, owners should call the memories of summer picnics. In the case of Russia – and even port wine / vodka in the stairwell at any time of year.
3. Plastic wine
Yet another variation on the theme of plastic cups from designer Maxim Velcovski.
4. Stack of plastic cups
This glass and bottle. Designers – Blackstone the Magician.
5. Stack of plastic cups
This glass and bottle. Designers – Blackstone the Magician.
6. Botanical glass
Glass created especially for gin Bombay Sapphire, which prides itself on its delicate floral aroma. Designer Benjamin Hubert and invented a new kind of blew manually martini glasses.
7. One glass for all
One glass and a few simple devices are called EvOlverre were invented in Utopik Design. Of EvOlverre can drink and water and wine and cognac, and champagne.
Cut glasses
Then you will not understand which side to pour.
Inverted bottle
Glass for those who like to drink beer from a bottle, but from innovations refuses. Why not have a beer from the bottom?
Wrapped martini glass
Glass from one series with "flute» – InsideOut designer Alissia Melka-Teichroew. Glasses not only look good, but also they are more stable and longer keep drinks cold.
Collection Calici Caratteriali
Series of experimental glasses from Italian design studio Gumdesign.
Wrapped "Flute"
Tall, narrow, thin-walled champagne glasses called "flyut" (flute). To make it more interesting, flyut wrapped in a glass tube and robbed the cradle.
Immediately with a cherry
Leszek Kobusinski glasses have fancifully bent legs and fitted cocktail cherries. Glass, of course.
Glass-ladle
Designer Jeremy Brown noticed some similarities wine glasses with a ladle (very remote) and deepened it.
Tanker
To all the time to refill. From kyouei design.
Glass with a hole
And the party will not have to wrestle with the question "What to do with this stupid napkin." Designer – Alvaro Lagos Vasquez.
Half full
That no one ever had any doubts.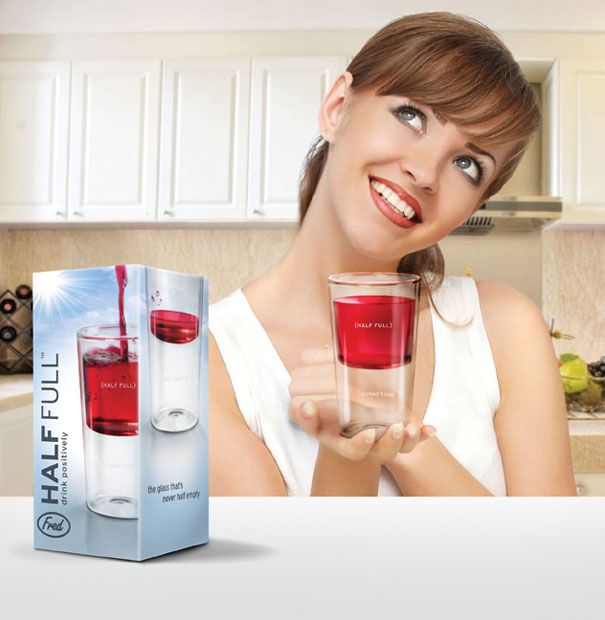 Inclined glasses
Glasses Boules (Fr. "balls") from Absolute Appetite equipped with lenses to create the optical effects and tactile sensations.
Perfect glass for whiskey invented designers Normann Copenhagen – with nicely observe the "rule of five S» – sight (view), smell (smell), swish (savor), swallow (absorb) and splash (splash water).
Weinstein
Wine glass in the form of a beer mug. Beer is also nice.
Leave a trail
Next to the glass is akin to a pleasant impression of the person. Hironao Tsuboi designer created a series of glasses Sakurasaku Glass, inspired by cherry blossoms: the glass itself does not look fancy, but leaves its mark in the form of Japanese cherry flower.