Italian artist Millo draws huge graffiti with friendly residents who enthusiastically explore the space of the city. With simple black and white contours with color highlights the artist often depicts the architectural elements, using the full height of a multistory building.
Little King.
Graffiti in Turin.
The real name of the artist – Francesco Camillo Dzhiordzhino (Francesco Camillo Giorgino). He was born in 1979. Graduated with honors from the faculty of architecture, and then focused on the aesthetic side of urban surfaces in terms of image and graffiti. His work has participated in numerous art festivals throughout Europe. In 2014, Millo won hosted by the City of Turin Competition B.Art , the results of which the artist was granted clearance for 13 buildings. All the figures were to be united by a single concept, and Millo repelled by the idea of " identifying the transience of human existence, suspended somewhere between what we know and what is hidden within ourselves. "
Graffiti from Millo.
Graffiti by Italian artist.
Drawings on homes in Turin.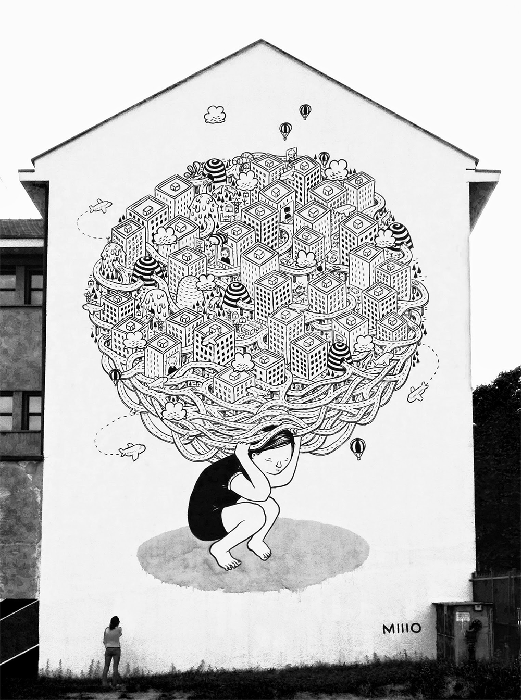 This large-scale project that embodied Millo in Turin, of course, changes the face of the city. Such was the case this year in the capital of Italy: positive graffiti decorated buildings in Rome, creating a real colorful explosion.