One of the hallmarks of the restaurant business in Japan – a vibrant showcase, which demonstrates a variety of dishes.Sushi, noodles, burgers, soup and ice cream – it all looks very appetizing, but actually … inedible. Instead savvy restaurateurs products flaunt plastic dummies, the so-called sampuru .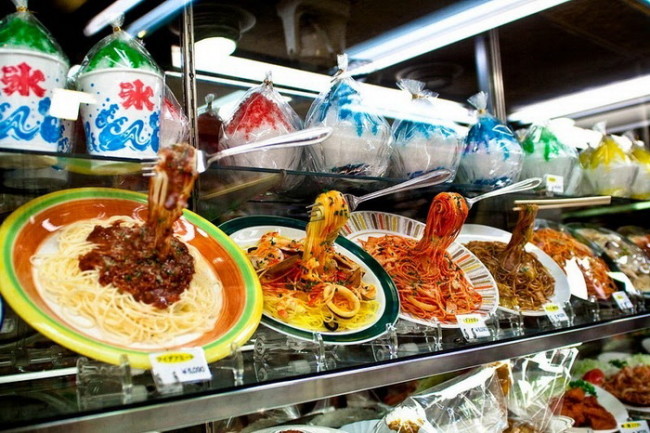 The idea of creating a "plastic food" has taken root in Japan is not accidental: the local menu is made ​​only in Japanese, so for foreign tourists is much easier to find the right dish on display than to ask the waiter. Sampuru first appeared in 1917, at first they were used to decorate the house, like plants, but a few years later at a restaurant in Tokyo plastic dishes began to be used as advertising to attract customers. In this simple way the visitors began to show what they can order: shape, size and color sampuru exactly match the chef dish.
Today sampuru represented in many institutions, some snacks and dining are willing to spend up to one million yen ($ 8,500) for a similar decor. Production of plastic food today Dozens of firms, a pioneer in this area can be named businessman Ryuzo Iwasaki, who in 1932 began selling imitations in Osaka. The company was so profitable that over time, he moved to his home town in Gifu Prefecture, where he created a real "food empire." Until today, a successful businessman controls 80% of the plastic "food" market in the country.
The process of making food from plastic laborious: it all starts with photographing real dishes, and then draw up a special form, ready "products" paint by hand. The artist manages to convey the slightest details: for example, they can precisely reproduce mouthwatering steaks with blood or medium roast.
If tourists pleases purchase such as a fake souvenir, then you need to go to the street Kappabashi-dori, there are many special shops that sell plastic food … for every taste.