County of Devonshire, was truly fabulous. Rare beauty houses lovingly decorated with flowers and vines create the illusion of a fairy tale. In the county, all are concerned about the environment and so it is very well developed landscaping and construction of environmentally friendly materials. The roofs are covered with reeds. Local home a bit reminiscent of Ukrainian "hut" with front gardens in front of the house. Through the territory of the county lot of rivers pass out. However, a large part of the county is occupied by national parks of Dartmoor and Exmoor and is a rural, low-population density of England. In the county, there is a natural UNESCO World Heritage Site – part of the Jurassic Coast of Dorset and East Devon. I Wish all other part of this world see this create beauty of our own country like this…
1.Devonshir (or Devon), located in the south-west of England, is the third-largest country by county.

2. In England, The road network is well developed, the village is so beautfu.

3. Once in the XIX century through Devon paved the railroad in the county prospered seaside resorts – which helped both the local mild climate and historical heritage together with the marvelous nature. At this time, tourism has become a good support Devonian economy.
4.  ​​Devonshire national parks Occupy a large area. A major source of income for the county is tourism. In the 19th century, after the construction of the railway,  the heroes who visited this place Conan Doyle, Sir Henry and Dr. Watson.
5. Name of Devon you can hear in geology, Adam Sedgwick scientist in honor of Devonshire called one of the geological epochs. A coast of East Devon is the only place in the whole of England is under the protection of UNESCO as the Jurassic Coast. "Jurassic Park" look? Dinosaur bones were among the first found here.
6. The capital of Devon is the city of Exeter, and the largest city in the county – Plymouth, which is called "the most desirable city in Britain." It started from Plymouth in 1620, famous journey done by Pilgrim Fathers to North America on the ship «The Mayflower». Today, Plymouth is a city of dreams for beach lovers and water sports.
7.
8. When looking at these houses it really give you a feeling that you are in a fairy tale.
9. In this county once famous a writer was born his name is Agatha Christie.
11. Buildings are all of great beauty, lovingly decorated with creepers and flowers.
12. Like all English county residents think about the environment – the future of them, unlike us, very exciting. Everything is made from environmentally friendly materials, and the roof is covered with reeds.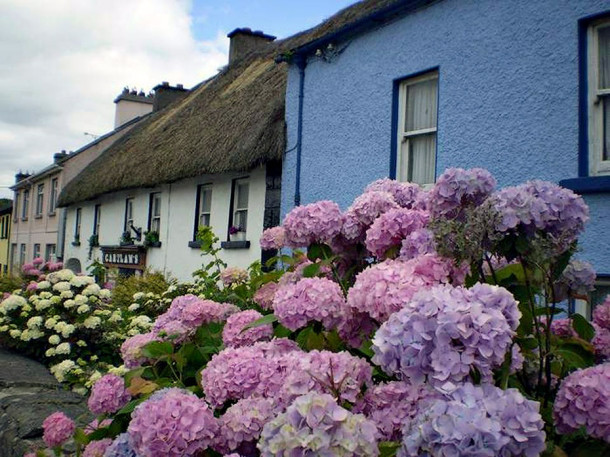 After reading this i really want my home like this with lots of flowers, like a fairyland….