A bizarre toilet themed restaurant has made its way to California and you actually sit on a toilet as you eat your dinner. This might appeal to some, but others might have a hard time sitting on a seat that's associated with bodily functions that are usually done behind closed doors.
According to the New York Daily News on Oct. 16, "if all goes well this restaurant's business will be in the crapper." The restaurant even serves its dishes in small toilet bowls and tiny urinals. They also have all types of bathroom accessories around.

While it's creative and it looks different, these are actual toilet bowls you sit on for a chair. Just how comfortable can that be? Some sit with the lid down, but on "Fox and Friends" live Friday morning, the restaurant owner said some people prefer to lift the lid and sit directly on the toilet seat.
It looks more like a plumbing supply store with very little selection more so than a restaurant. The owner's "soft opening" went well as family and friends joined them for dinner. According to Fox the place got good reviews for original decor, but the food needs some work.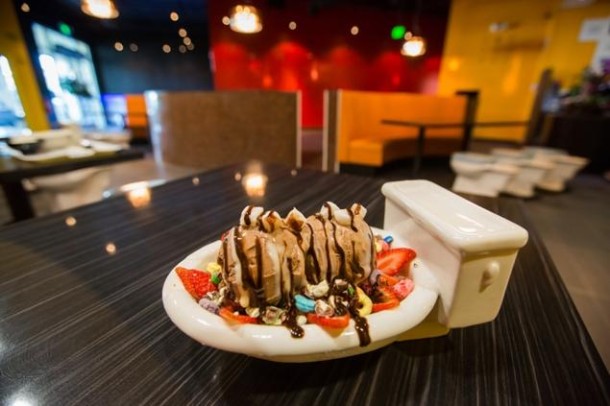 Could it be that it is just not appetizing to eat soup out of a miniature toilet bowl or having a salad come to you in a small urinal? One of the ice cream dishes is served in a tiny white toilet and the chocolate sauce drizzled on the toilet seat somehow just looks too realistic.
There's a Modern Toilet Restaurant in Taiwan, which is what YoYo Li, a first time restaurant owner modeled his place after. The Magic Restroom Cafe is hoping the success the toilet restaurant in Taiwan has is an indication of how this royal flush will do here in the USA.