With conventional lamps and some auxiliary tools, the photographer-experimenter turned pineapples, potatoes, strawberries and pears in the amazing glowing figures resembling distant planets. Glow emanating from edible "lamps", naturally varies in color. So, strawberry emits "warm" red glow, and cabbage – nice looking green tint.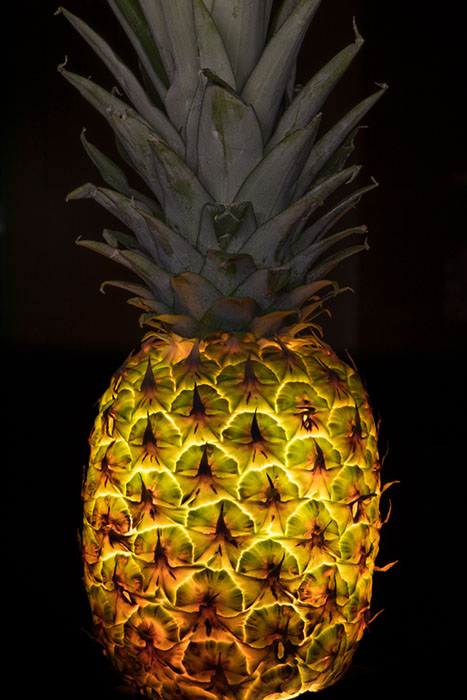 Romanian photographer Radu Zaciu has recently completed a series of photographs entitled The light inside, in which he, literally, presented the usual vegetables and fruits in a different light. The project was born when the author began experimenting with different ways of lighting. That's when the idea came to him and put the regular bulbs into something edible, pre-cut the flesh and core of the future model.
The effect is so amazed photographer that he decided to create a series of images of illuminated fruits and vegetables. For each product used in the project, Zachiyu specially picked lamp size. In addition, it is important to achieve full illumination of objects with more dense skin. For example, some edible "models" photographer fully cored to insert one or more lamps, for other, more solid, use a small drill to create a "guinea" Product symmetric channel.
In general, the concept proposed Zachiyu, much like a traditional American Jack-o'-lantern – pumpkin-lantern, one of the main attributes of Halloween. However, unlike the American pumpkin, vegetables and fruits Zachiyu deprived sinister grin and terrible burning eyes. The author of "Light inside" – another goal. He wants to show the natural fibers of fresh products, enabling viewers to see a familiar food in a new light.