Meet Dan Price – Modern hobbit who lives in five thousand dollars a year in an underground burrow in Oregon, which he built from wood waste. Read more about this amazing man you can read under the cut.
Squatting, Dan Price climbs into his house – in the "Nora Hobbit", as he calls it. Nora – because the house is made by Dan inside the hill, using wood waste. "The Hobbit" lives in the town of Joseph, which is north-east of Oregon. The entire construction took only 75 dollars, most of which is spent on staples and construction filler. Inside – a small room height of 1.3 meters with sloping ceiling. "All that I need – it's food, clothing and shelter," – says Price, who lives just five thousand dollars a year. Such a way of life, with the words of Dan, delivered him from the constant concern about money and work.

Price prepares the most simple food: oats, nuts and grains. For lack of a refrigerator, the milk in the house is not found, so everything is prepared in the water. cutleryhe has one spoon, one fork and one knife

One of the few ways to earn a magazine in Pictures' The Chronicles of Moonlight ", which tells of his adventures in the last 20 years. More than a modest income comes from advertising. Dan spends money primarily on inventory traveler tents and clothing.

As you may have guessed, the Burrow Hobbit Pryce have no washing machine or any other usual appliances. Dan wash clothes in the river nearby and dry it on a rope. "Everything you want, being rich is to create a paradise for myself. That house where I live now – this is my paradise, paradise dreamed of by people with money. "
Land rent is just $ 100 a year.
Every year, Dan Price knocks one cottonwood tree and planting evergreen one instead. "Evergreen trees are not so easily broken by the storm, as cotton" – says Dan. Money is an essential tool for the new Dan spends reluctantly. Therefore, as soon as the old worn to the limit, he buys a "new" at flea markets or sites with ads.
In life there is a place Pryce and sports. For daily training Deng made a post of concrete residues. Over the past few years he has no health insurance. Three years ago he received a check for 3000 dollars after surgery to remove kidney stones. "And I said, dude, I do not have that kind of money! How can I repay? State institutions like when customers are willing to pay the bills. "
Price's have no car. He rides a tricycle recumbent bike, or simply go on foot. As he says Dan, it saves them money and allows you to stay in shape. In 2001 he received from another sponsor bike and drove it to 7240 kilometers. Journey from Oregon to Key West in Florida is described in the "Chronicles."

For $ 6, our hero buys file for  his tricycle chain "People like to shop, this feeling of euphoria from the item. I, on the contrary. I always get depressed when you need to buy something "
Before Dan built his Hobbit Nora, he lived in a tepee. Photos submitted for the photo exhibition dedicated to the Indian people not Perce. It captures Price helping dismantle wigwam. "Before the colonists came here, there was not any piece of concrete, no telephone poles, no fences, no wires, no roads. And without all that they have lived here happily in harmony with nature. This idea is completely turned my idea of ​​life. Understand, I'm not going to expensive, which are all. I'm going in the opposite direction.

Sometime in difficult times Dan saw an ad in the newspaper about vacancies cemetery caretaker. "For me, this work became a kind of revelation. Take care of the cemetery, it's like to be a monk. I like to do it. I was so anxious to get the job that I started doing it even before I was hired officially. I've been working here for 2 years, earning $ 475 per month. And in those two years I had some special connection to this place.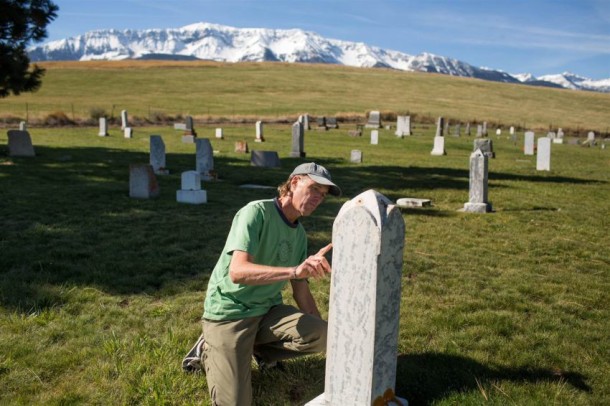 I just want to say that I like people like him who have positive attitude about their life no matter what so I Wish he always get in life what he wants, god bless him…