A selection of photos taken last week in different parts of the world.
 An employee of the auction house Christie's blue diamond shows in London, UK.
1. Boy gets the ball out of the hole in Una.
2. Hungarian Zoltan Veres pilot acts on the plane at an airshow MXS in Budapest, Hungary.
3. Free Syrian Army fighter shoots a hand grenade launcher during clashes with Syrian army soldiers in Aleppo.
4. The tail of the aircraft above the runway at a military base "Elmendorf-Richardson" in Anchorage, Alaska, USA.
5. Felled trees and damaged homes in Bessemer, Alabama, USA.
6. Police use tear gas during clashes with demonstrators opposed to the FIFA World Cup 2014 in Sao Paulo, Brazil.
7. Woman showing the ink-stained finger after voting at a polling station in the district Rangareddi, Andhra Pradesh, India.
8. A gust of wind blows pileolus Pope Francis St. Peter's Square at the Vatican
9. Woman working on a salt marsh on the outskirts of Chennai, India.
10 . The man and his daughter help their friends to search the ruins of their home after a tornado in VILON, Arkansas, USA.
11. People evacuated from their homes, which is approaching wildfire in Rancho Cucamonga, California, USA.
12. Forest fire in Rancho Cucamonga, California, USA.
13. Personal belongings found near the destroyed house in a tornado VILON, Arkansas, USA.
14. People watch fireworks in the Walpurgis Night in Stiege, Germany.
15. Supporters of the Communist Party carried out a May Day demonstration near the monument to Lenin in Donetsk, Ukraine.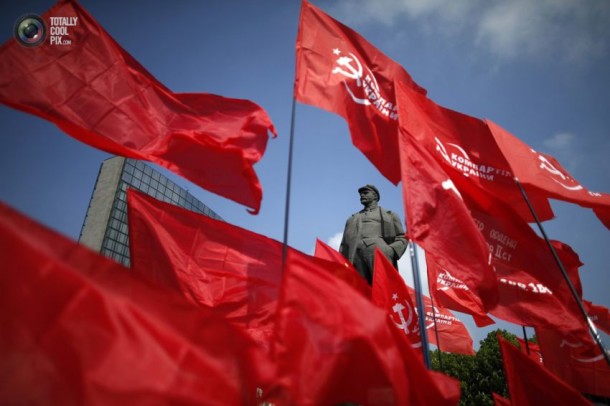 16. Girls carry water on the banks of river Yamuna in New Delhi, India.
17. estno resident examine a damaged road in Pensacola, Florida, USA.
18. Oak with broken branches after a tornado near VILON, Arkansas, USA.
19. Serviceman stands guard on the banks of the Yalu River near the town of Sinuiju, North Korea.
20. The place where a landslide occurred in the province of Badakhshan, Afghanistan.

21. Rescuers and police work near the wrecked trains near the Needy, India.
22. Afghans are waiting for humanitarian assistance near where a landslide occurred in the province of Badakhshan, Afghanistan.
23. Soldier overcomes obstacles during an exercise at a military base in Chaohu in Anhui Province, China.
24. Flamengo district at dawn in Rio de Janeiro, Brazil.
25. Sniper Evros occupies a strategic position at the airport in Bangui, Central African Republic