WTF this people need in this world, are they lost their mind, I have never ever seen this kind of  worst and weird modification,i really want to know what they actually think, when they bear this much of pain to look like this, eeeeuuuuu but ok Different people have different perfection Just have a look at this pictures and tell me what do you think….
1. Japan is known for it's weird Sh*t, and the latest trend there is called 'Donut Head'. Saline is injected under the skin and creates a reservoir as it builds up, after which the deranged receiver of this substance then presses a hole in the middle of their forehead to make it look like a donut. This beauty only lasts 24 hours, because saline gets absorbed by the body. What an awesome first date idea!

2. A platinum alloy insert under your cornea is sure to make your eye stand out. This craziness is known as 'Extraocular Implant', and is super dangerous. I'd assume that the probability of someone with this implant of going blind in the next 10 years is very high.
3. Subdermal implants are a sure way to freak town. Basically you can pick any shape made of silicone or teflon to get implanted into any part of your body. Oh and if your body doesn't accept the foreign material, get ready for some serious pain.
4. Ever wanted to feel like cattle? Well look no further than branding your skin with hot steel in a practice called scarification. New Guinean tribes have been doing this for centuries, and it's now on the rise in Western culture. Looks delightful doesn't it?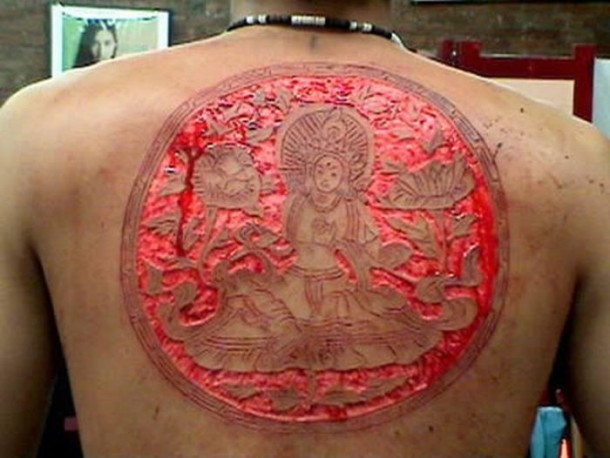 5. But if you want to look as cool as this dude, you got to go through the pain.
4. Tongue forking is another body modification that's on the rise around the globe. Now, I like reptiles and think that their tongues are kind of cool, but loosing taste buds, risks of infection, difficulty eating and talking like I just came from the dentist all my life is not worth it.
5. Eye Tatoo. Injecting ink between the two protective layers of your eyes with a possibility of blindness sounds like a piece of cake right? Looking like a demon/vamp or whatever other dark fantasy some freaks have in mind is a totally legit motivator.
6. So you've always wanted to feel like a triceratops, or not having to ever buy a Halloween costume? Get a pair of steel spikes implanted into your skull and satisfaction is guaranteed. It might be hard to find a job however.
7. Corset Piercing. Make a bunch of holes anywhere in your body and lace it up like a shoe for a sexy emo look. Although the infection which is very likely to happen with this amount of piercings + sweat, clothing, water etc. will soon cloud the feeling of sexiness I'm sure.
8. Being an elf is just what some people need to be happy, so they go on and surgically modify their ears in a procedure called 'Ear Poiting'. The ears upper corners get rolled inwards and sown together basically, making it appear whimsically elf like. Cute, no?