Objects made with their own hands, fill the house special warmth and comfort. In addition, they receive exclusive. We offer an overview of fixtures that will completely change the atmosphere in the room, turned into an object of envy to the groans of friends and relatives. The more that are made from everyday objects, which are usually thrown away.
1. Tetralyustra
Cartons of juice or other drinks – quite mundane thing in most homes. Most often it is thrown. But Malay design Edward Chu spent a lot of time to cut them into strips and build hundreds of these amazing lamps without a drop of glue, the simple principle of origami.
2. Chandelier from plastic spoons
Jaroslav Olenev offered to make a lamp out of disposable plastic spoons and won in the category "Ecology and Design" by the magazine "The future is now."
3. Chandelier from hangers
Not less than the original use of found and Natalie Simpson for ordinary wooden hangers. But they look amazing as a chandelier.
4. Chandelier "Gummi Bears"
Kevin Chempeni to pay tribute, not everyone has enough strength and patience strung 14,000 bears to get the chandelier.
5. Chandelier "Forest"
His vision of the problem of lighting housing in Hilden and Pio Tyra Diaz. Thanks to their bathroom fixtures becomes like a forest. All the walls come to life and turn into trees.
6. Chandelier from the drums
Talented welder Matt Ludwig was even and excellent designer. Restaurants «JJ's Red Hots» he made an incredibly original chandelier from the old drum set.
7. Chandelier from bicycle parts
Texas artists Joe O'Connell and Blessing Hancock parts of old bikes built stunning lights and hang them in a tunnel under the highway.
8. Lighting pumpkin
Probably, it will be difficult to find a more original chandeliers than pumpkin from the Polish artist. He cuts a stunning patterns on the skin that are not repeated.
9. The lamp of the hat
Original and stylish look lampshades made of felt hats from Jeeves & Wooster.
10. Chandelier from the molds for cakes
Once Heather Jennings saw in the store amazing chandelier "Rhododendron", only it was worth more than $ 800. Then the designer decided that their hands can not do worse. To do this, she will need paper molds for cupcakes.
11. The chandelier in the kitchen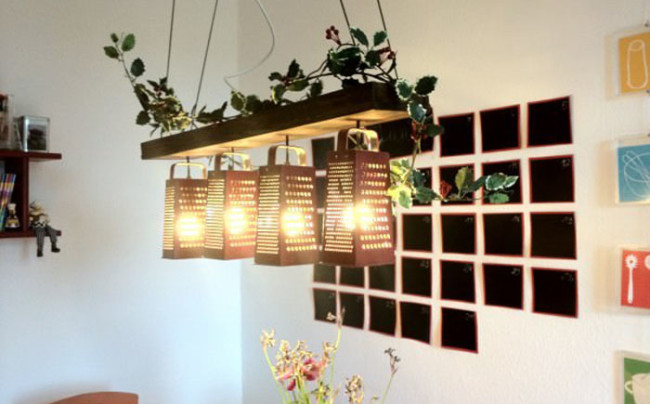 Incredibly nice it can look a chandelier made of common metal tetrahedral graters.
12. Lace Chandelier
Still fresh in the memory of a vase and sweets made of openwork napkins. Now it's time to knit chandeliers.
13. Chandelier from silverware
Strange variant offers Fansua Lego, he believes that the best way to store cutlery – a chandelier.
14. Lamp "Clouds"
Most cloud carved out of wood, but the rest and switch – out of cardboard.
15. Chandelier "Globes"
Of the several globes can get a wonderful cascade chandelier is a great way to light a flight of stairs.
16. Chandelier "cup"
Gregory Bonasera – a talented potter who is constantly looking for new solutions. Here and now he proposes to use cups and saucers For the manufacture of chandeliers. Bright and elegant.
17. The lamp of yarn
A great way to dispose of the remains of the yarn, the more it is possible to show imagination and make it not only solid, but also colorful.
18. Chandelier Tongues
Opened a can of drink, olives or canned and preserved tongue. Over time, they will gather enough to make a nice table lamp.
19. Paper Chandelier
It is safe to attract children. Occupation applique for them will turn into fun process.
20. Chandelier from plastic bottles