It seems that in these pictures giraffes perform a passionate couple dance – the tango. But in fact, the graceful giants are fighting for the female ritual. He will continue as long as one of them will be defeated and will not fall to the ground.
1. The photos were taken in the Luangwa National Park in Zambia photographer Dana Allen.
2. In the "dance"  two young and ambitious male are involved.
3. The battle lasted over two hours.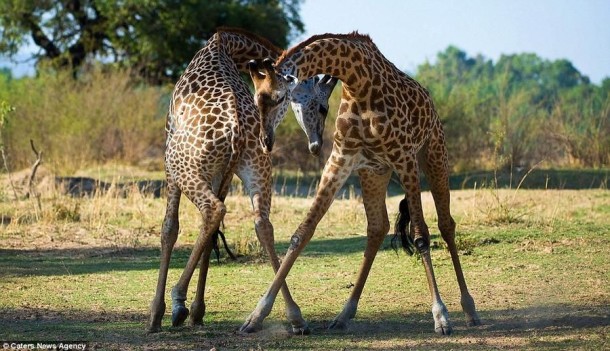 4. Animals were moving very slowly and smoothly. Often, their movements were synchronous. This created the illusion of a pair of dance.
5. At the end of the fight the winner walked away with a female.
6. Dan Allen is of fifty-one years. Twenty-five years of which he spent taking pictures of animals in the regions in South, East and Central Africa.
7. Photographer came very close to the animals, but they ignored him absolutely with no attention.

8. Battle of giants.