The oldest cat in the world has become a 24-year-old Poppy from the English city of Bournemouth. In terms of "human" age record holder is now 114 years old. Poppy hit the Guinness Book of Records as the most elderly now living cat. Title record holder went to her kicks from Kansas, who died last year at age 23.
1. Poppy on his birthday. She was born in February 1990 and found five prime ministers of Britain. Poppy lives in a family with other pets – even four cats, two rabbits and a hamster.(Photo: SWNS)
2. Poppy on his birthday cake regales. (Photo: SWNS)
3. Poppy celebrates its 24th anniversary. (Photo: SWNS)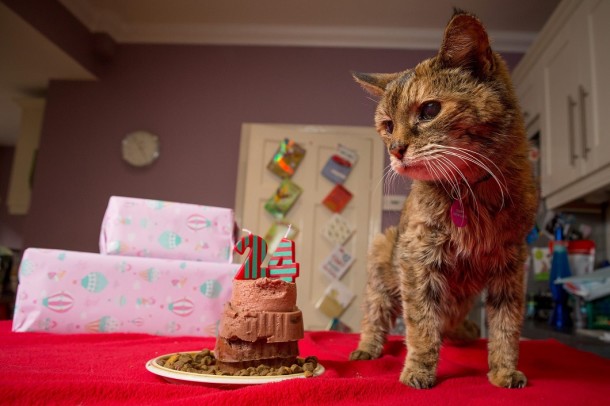 4. Poppy hostess Jackie said that people often ask about the secret of longevity of her darling, to which she replies: "I think she has a good diet and plenty of exercise."
"She keeps herself in shape with the help of a lot of walking and eating. She cookies for breakfast, and then canned. However, she has never been fat, "- said Jackie. (Photo: SWNS)
5. Jackie added that Poppy, despite blindness and deafness, quite nimble – often meows and may even bite another pet if that encroach on her food. (Photo: SWNS)
6. Poppy in 1997. (Photo: SWNS)
7. Hostess also noted that Poppy health has deteriorated over the last year. "We know that the end is near" – Jackie said, adding that she was saying goodbye to Poppy several times, but each time the animal has proven that a cat has nine lives. (Photo: SWNS)
8. Poppy hostess Jackie with his sons shows evidence of Guinness World Records. 
(Photo: SWNS)